This new puzzle is similar to many in the book: output a repeating (alternating) pattern of blue ("B") and red ("r") marbles. For this challenge, the output must be 4 blue marbles followed by 4 red marbles, repeating until the marbles are exhausted. What makes it harder (possibly) is the required initial board layout, which is a vertical register of 4 bits. (See picture.)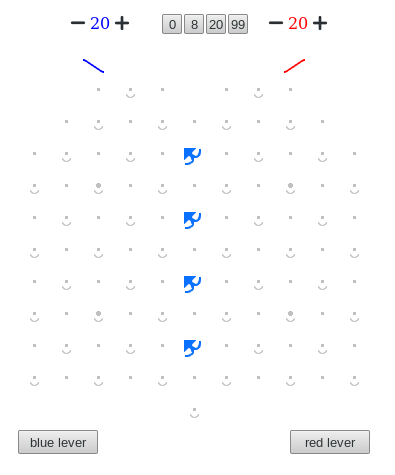 The 4 bits can be initially oriented in any positions. They are not required to all be pointing left as shown in the image. The initial board layout can be found here on jstumble.
The available parts inventory for solving this challenge includes only these parts:
the 4 provided bits (no additional bits)
1 crossover
22 or fewer ramps
Start with the blue lever.
Required output:
rrrrBBBBrrrrBBBBrrrrBBBB
(until out of marbles)
In the spirit of my other challenges, once you have solved this puzzle starting with the required initial board layout, see what alternative solutions you can find without any parts restrictions or layout preconditions (particularly if such solutions use fewer parts or replace "expensive" parts such as gear bits with "inexpensive" parts such as ramps or crossovers). For an alternative solution, all that is required is the specified output.
There is at least one major alternative solution which does not use the vertical register of 4 bits. That alternative is more intuitive and probably not as challenging. I may be wrong, but I think what makes this puzzle interesting is the required 4 bit vertical register. However, once solved, you will probably recognize the pattern. I hope this challenge encourages some out of the box thinking and leads to insights that help make you a stronger puzzle solver.
If requested, I can provide some explanation of how the puzzle works in terms of basic logic concepts.
I do not know how difficult people will consider this puzzle. I estimate the difficulty level as "medium", on a par with puzzles in the middle of the book. The intended challenge is to cause you to think about the vertical 4 bit register in a different way. Please let me know if I have provided too much information or not enough information to make the puzzle interesting and challenging.