The idea is to be able to assign a single, unique sequential index number to each and every TT pattern of balls.
A few of design principles:
Uses binary - and lets say Blue is 1 and red is 0.
Using the Standard pattern Number (SPN) should not require you to have specified the number of balls. That is - the SPN should also define the number of balls in the pattern. The reason for this is to remove issues of ambiguity around leading zeros.
Must be east to get to the pattern from the SPN (a previous post of mine was alas rather lacking in this regard).
Illustrated example: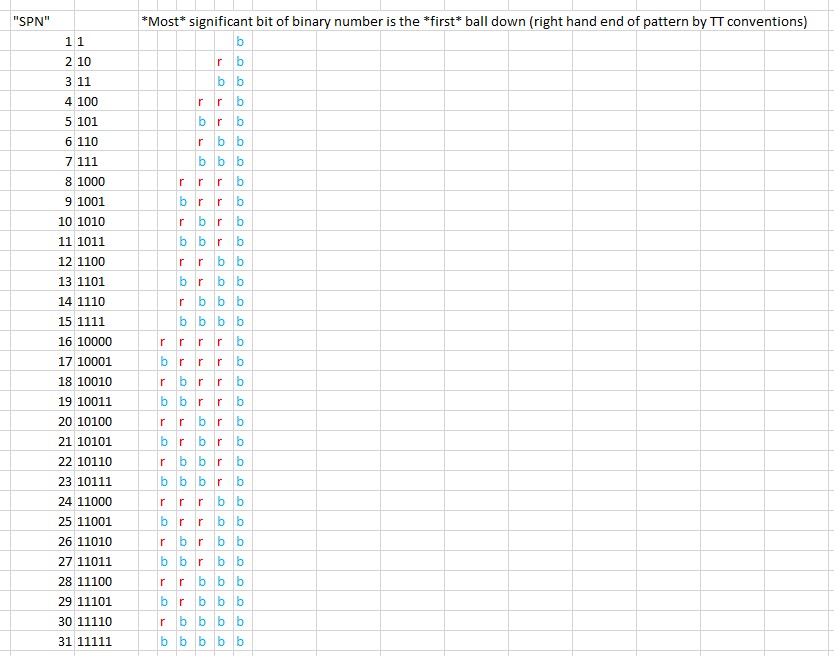 Note that we only need to number all the patterns that start with a blue ball (first ball to be released). Each of the patterns that starts with a red ball is a mirror image of pattern that starts with a blue ball. For example, SPN(18) : 18 in binary is 10010. The corresponding pattern is RBRRB; a blue followed by 2 reds, then a blue , then a red. The mirror pattern M-SPN(18) would be BRBBR (the first ball down being red).
This helps in systematically addressing certain classes of problem, notably "What is the first pattern that cannot be created using a standard set?".
Particularly interested in the thoughts of @Florentin and @RingTheBell.